Though I'm not one to admit it in person at a shoot, this image was a bit challenging for me. I wanted to use a longer lens because of the compression that it provided, so considering the size of the room, I was as zoomed out as I could muster, but on top of that, there is a need for a substantial depth of field to keep the front row and back row in focus. We opted for available light because they were sitting next to a humongous series of windows, which also meant that we had to block some of the stark rays from the glowing orb outside.
I think it turned out well, especially considering canines aren't always the most cooperative, and as always, I was glad to have the assistance of my lovely wife!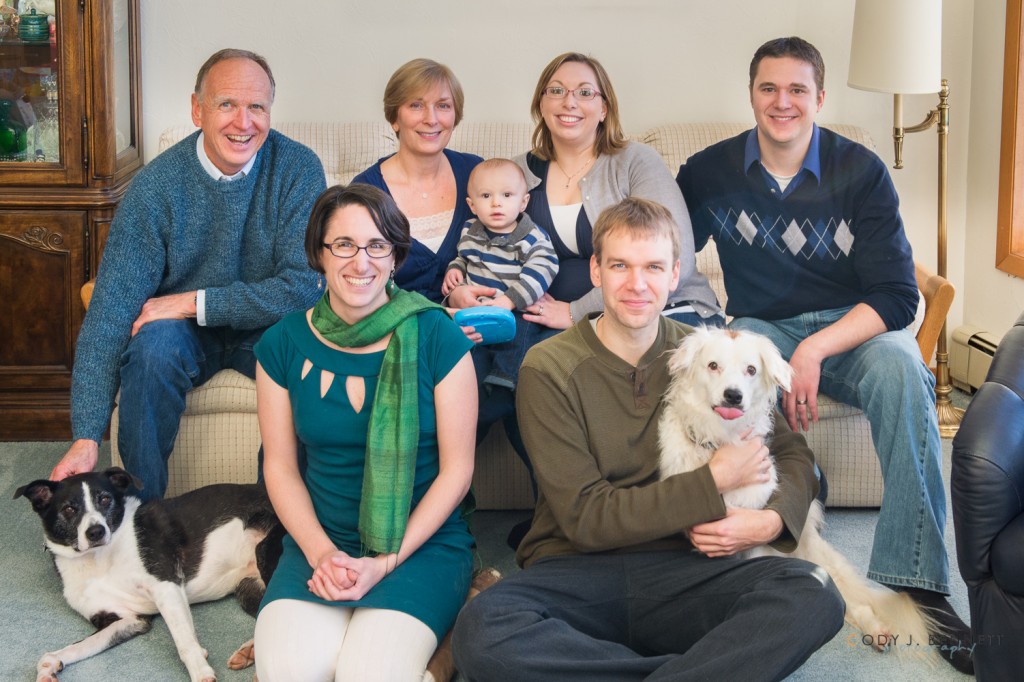 ---
Part of the reason the blog has gone without some attention recently is that in early November, Heather and I went on an epic trip.
Two weeks, 6 states:
Juneau, AK
fly to… Portland, OR (2 nights)
fly to… Seattle, WA (1 night)
fly to… Reno, NV
drive to… Carson City, NV (3 nights)
drive to… Tahoe, NV and back
fly to… Denver, CO (3 nights)
drive to… Bridgeport, NE (1 night)
drive to… Denver, CO
fly to… Seattle, WA
drive to… Port Townsend, WA (3 nights)
drive to… Leavenworth, WA and back
drive to… Seattle, WA (1 night)
drive to… Leavenworth, WA (2 nights)
drive to… Seattle, WA (1 night)
fly to… Juneau, AK for a vacation from the vacation!
And, while we're here, I thought I'd use the photo blog to offer up a couple of photo highlights… take a look at some photos after the jump…  (more…)
---
Just a quick trial of a new service and a highlight of a wonderful family…
A month ago (or more?) Heather and I had the chance to share a rainy afternoon with Ashley, Evan, Melanie & Robert and their three dogs Bossy, Barbosa and Bently. They're a fantastic bunch. Genuine, full of energy & loving – my favorite kind of people!
You can take a look at a few of the images here:
Family Portraits
And, the trial as promised below: a video slideshow of the images in the gallery. What do you think? Do you like the slideshow? For a first-take, I like it… I do have other options of music, transitions, and more but it's nice to see the various images. One adjustment that I would like to adjust is the keyframe (the static frame when the video is stopped); I'm not sure if it can be adjusted with the services I use, but it would give a chance to highlight a specific image or even just my photography branding.
---