I had a bad experience with
Adorama
.
I'm trying to find the silver lining, I really am, but over and over, I feel like I may have a resolute "no Adorama" policy in my future.
As I've been pondering my bad experience, it's mostly that I had expectations pretty significantly mismanaged. I mean, if there were a few bullet points that I could have seen earlier, this might have all seemed normal. Here's what I'd recommend that they put in the welcome packet:
We prefer phone calls to email, even though you might be in Alaska and have a 4-hour time shift.
We will have affiliates call you to sell you on the idea. They will review what equipment you should send us. This is not equipment we are actually interested in.
You will take a copious amount of time to inventory and package these items upon which, you'll send it our way
We will have a trade-in guy review those sent items and select (possibly a fraction) of the items you sent. Ex: you might send us 30 things, but we might only choose 3 things to offer you a price on. Or, maybe you send us one thing and we offer you a price on that.
We will CALL you with an offer of the items we want making no mention of the other items sent or the process to expect
If you ask for an email articulating the offer, we'll resent that and send you as few details as possible like "Item: $value" without other commentaries
To clarify (again), we don't like email. we'd rather have you call us after hours on a cell phone than to be near a keyboard
Because we are wildly busy and important people without time to foster a relationship, we will have secretaries call you to connect you to the person you actually need to talk with
We are east-coasters, so expect terseness.
In many cases, the trade-in value will actually be lower than you expected (ex: $500 teleconverter reconditioned by manufacturer with original box has a $300 offer)
You can send us a list of items that you might want to buy with any credit accrued from your trade
We'll send you a short response that only shows the items we can price in our system without any additional words like "Item: $value"
We won't talk about actual availability of said items
The Trade value will be at a better price than MSRP because it is pre-owned equipment
The pre-owned equipment is unlikely to have the original box/bag/manuals/etc but we won't tell you that unless you ask
Heck, it's possible that your pre-owned lens will ship in a non-OEM storage bag that didn't originally come with the item and won't warn you of that (Ex: Nikon lens shipped in Lowepro g inside of OEM Nikon lens box)
Your trade-in credit will be applied to the value of the equipment you would like to purchase
Any difference over and above the purchase of pre-owned will be charged to the credit card on your account
Any amount that remains in credit can either sit within your account or a check can be sent to you
We will overpack everything and send it back to you in (possibly giant) boxes.
We won't check in with you at any step of the game to see if you have any questions or if the process was clear and valuable
Any feedback you send to us, either the affiliate or trade-in associate or whoever, will fall on deaf ears and will not garner any follow-up or attention
Thanks for selling to and shopping with Adorama!
Comments? Thoughts? Have you had a similar experience? or perhaps your experience was everything you dreamed of (top-dollar trade-in, great service, etc)? Let me know!
-cb
---
I'm a pretty excited kid right now. I mean like really excited. Maybe it would help to think of hyperactive children in a store that sells candy/toys/fort-supplies/etc? Yeah, that's getting closer.
If you've known me for any time, you know that I like to have quality equipment, and I'm not afraid to pay for it. Today's giddy response is brought to you by the letter 'D' and the number '4'.
That's right, today my brand-spankin'-new D4 came today. So stinkin' excited!
At first blush, I have to admit, it's nothing more than a camera. A fancy one, sure, but in essence it really is just a tool to execute my vision for my photography. I enjoy having 'fancy' cameras to use, but in all reality, I am JUST as excited when I hear about how someone made an amazing photograph with their 'Walmart Special' point-and-shoot camera. Really, it's the act of creating and enjoying the craft that brings me joy, not the plastic and metal that captures the image.
That all being said, I'm really excited about the upcoming swing of weddings this summer. Brenda, Shelley, LeeAnn, Kerri, Alix and perhaps more will have the good fortune of letting me really explore the capabilities of this beast.
Anyhow, cause I feel silly having a blogpost without an image, here's a picture I took while in the background my lovely wife quips, "How do you know if you're married to a photographer? Reason Number 572:  They set up iphone photo shoots with newly received cameras!" (She's right!)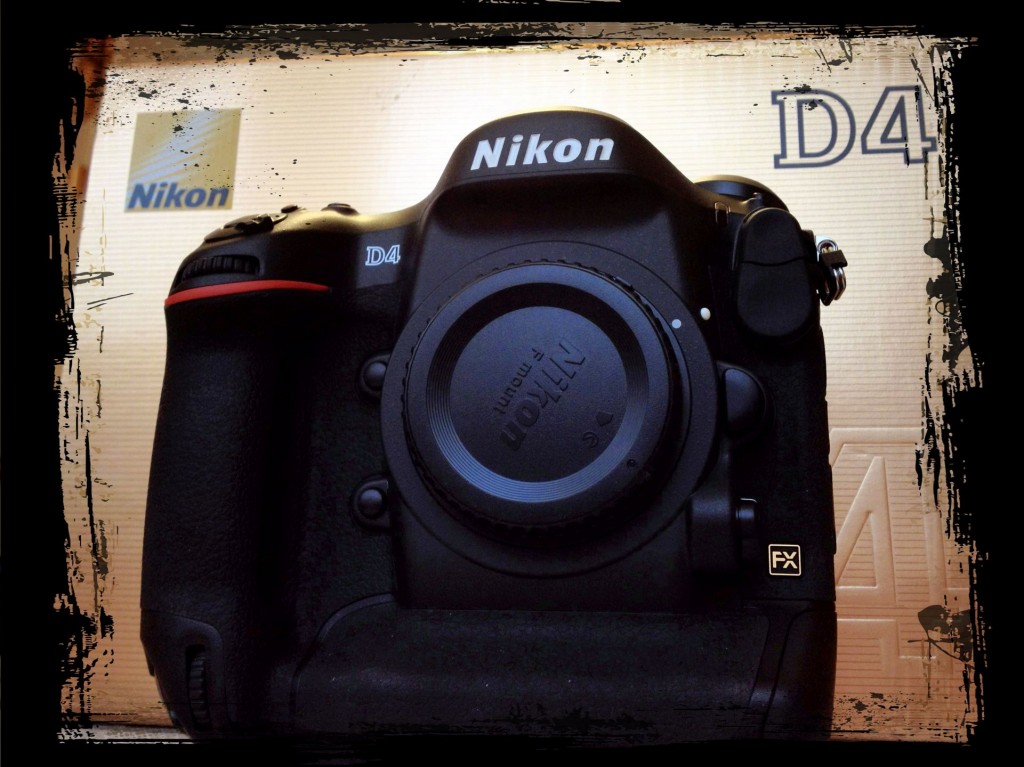 ---
Not gonna lie: I'm doing the happy dance in the comfort of my own home. Not totally sure when it will ship (it's on backorder around the nation), but rest assured, I'll be an excited little boy when word arrives that it's en route!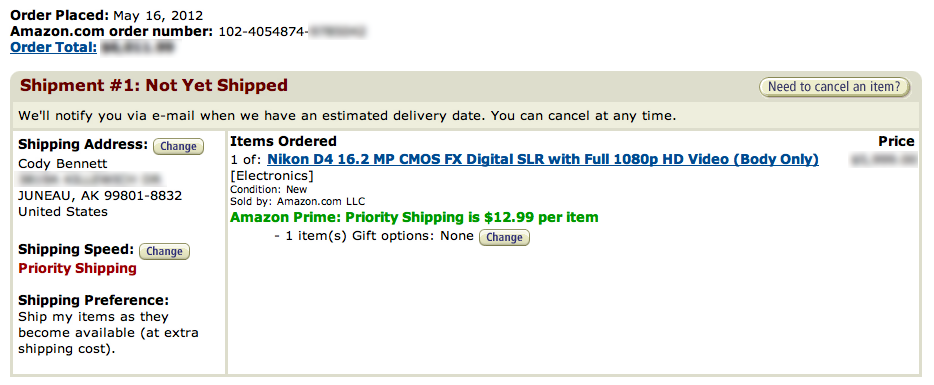 ---